Zoom! Teeth Whitening
Tooth discolouration can have a variety of causes, including certain foods and drinks, smoking or tobacco use, taking certain medications, or simply aging. At Westwood Dental, we understand that having yellowed or stained teeth can be embarrassing and confidence-draining. That's why we offer in-office Zoom! teeth whitening services to restore the look of your smile.
Visit us at Westwood Square in Malton, ON
An Easy and Effective Way to get your Teeth Sparkling White
Zoom! Teeth Whitening is an easy and effective way to get your teeth sparkling white in just one hour. This advanced procedure can help you achieve results that would normally take months of at-home treatments to accomplish. Here are some frequently asked questions about Zoom! Teeth Whitening:
What is Zoom! Teeth Whitening?


Zoom! Teeth Whitening is a professional tooth whitening system. It uses a special light-activated gel with hydrogen peroxide to break up stains and discolouration on the teeth. The procedure takes just over an hour and produces immediately visible results after the first session.

Who is a candidate for Zoom! Teeth Whitening?


Most healthy adults who have yellow or brownish discolouration on their teeth are candidates for this procedure, as long as they don't have any serious dental health issues like cavities or gingivitis. Those who have had crowns or veneers placed on their front teeth may not be eligible either because the whitening gel will not affect these materials.

How long does it take for the teeth to become whiter?


The process only takes about an hour, but you will start seeing results immediately after that single appointment! It may take a few days before you notice a significant improvement in color as your enamel absorbs more of the whitening gel over time, but most patients see significant change within just 1-2 weeks after treatment.

Are there any possible side effects from Zoom! Teeth Whitening?


The most common side effect of Zoom! whitening is tooth sensitivity which usually lasts for 1-3 days after treatment.
Special Offer

: Zoom! Teeth Whitening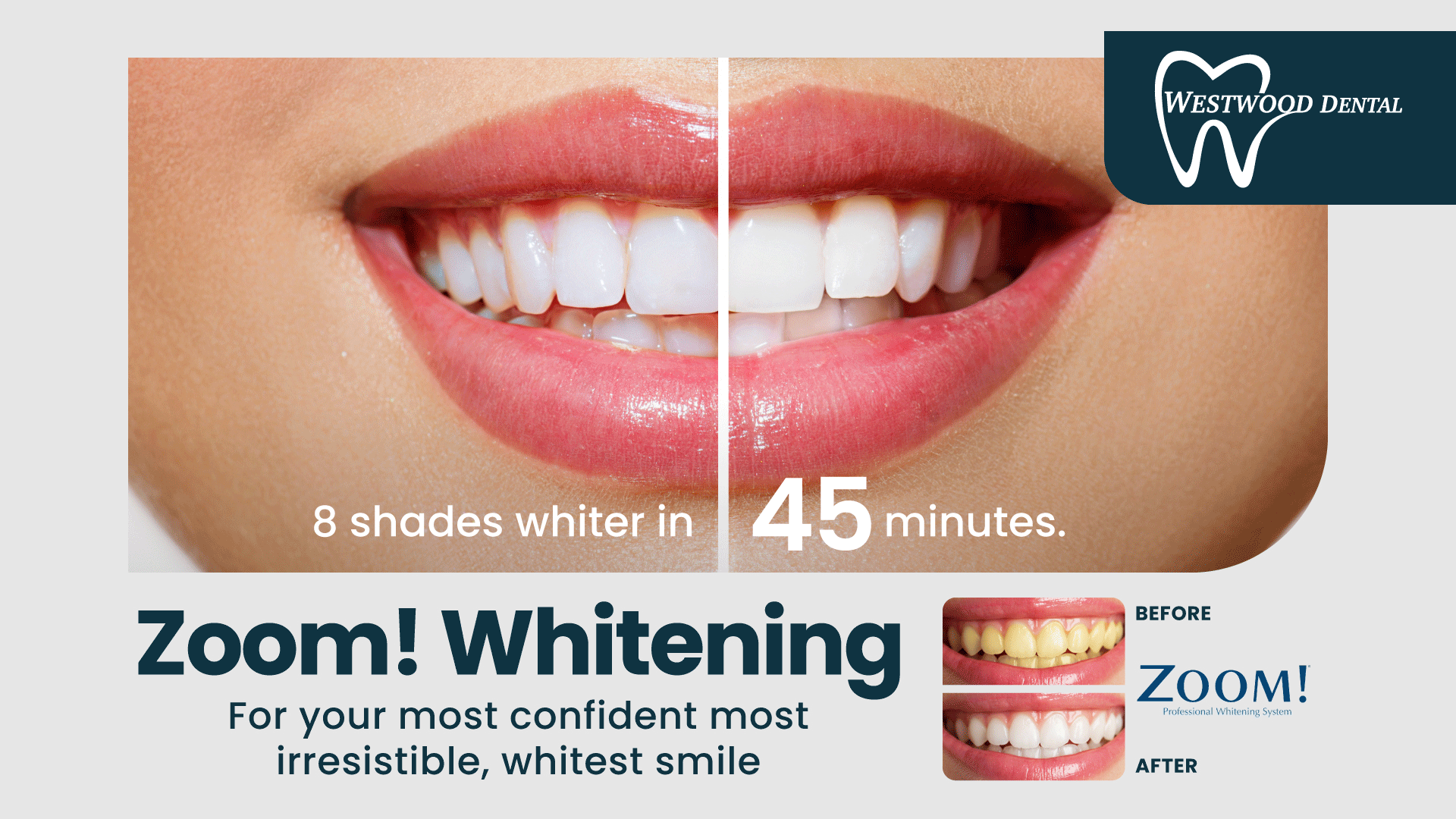 Get your brighter, whiter smile with Westwood Dental's Zoom! Whitening treatment. Using the latest dental technology and techniques, our experienced professionals will get your teeth gleaming in no time - right in our office. Take advantage of one of our specially designed whitening deals now starting at just $350 for in office treatment or packages including at home kit. With Zoom! Whitening at Westwood Dental, you can have a brighter smile in no time!